On 1st October in Paris, at Le Cabaret Sauvage, it was held a great chessboxing event called IFC, Intellectual Chessboxing Club. It is the first of such a kind in France and the organisers want this to become a series of top events similar to what ICS – International Chessboxing Show – is in Italy since 2015.
Four were the matches in programme, with the top fight being the World Championship title under 85 Kg between the current WCBO World Champion Jules Alois Julien, from France, and the former world champion Carl Strugnell, also known in chessboxing as Karl Ouch. This was won by the Welshman, who now lives in Serbia, in 9th round when the time of French chessboxer expired.
To open the night, after the concert by the Corsican quartet Sarocchi, it was the fight between Vito Borrelli, – Italian chessboxing Champion in the middleweight category – and the French Arthur Var, at his debut. Vito won by TKO in the second round.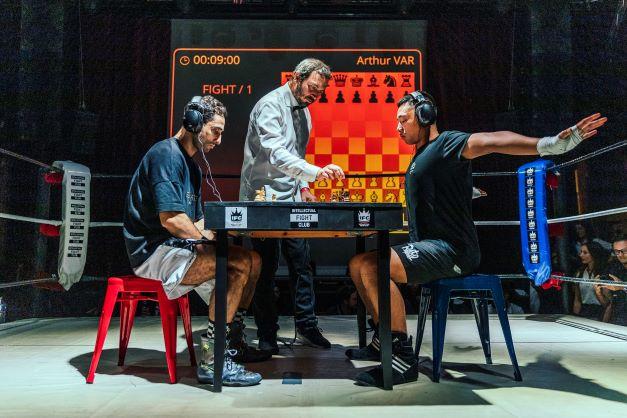 In the following fight of the night Kamel Boudjahlat defeated, in the chess round, the Dutch chessboxer Maarteen Kamerling.
After a break, with the show of the king of the keyboards Jeremy Ellis, the sport programme resumed with two more fights
The third fight of the night was valid for the French title: Tim Arby defeated Xhimshed Vogliqi. The second one started very well in the boxing rounds but was unable to find a KO or TKO and ended up loosing in chess.
In the fourth match, the match clou of the night – of which we have already written in the opening stages of this article – Carl Strugnell showed that, once more, he is great in connecting with the public. For him it was a difficult fight: Jules Alois Julien showed to be very powerful and Carl was counted but managed to finish the match victorious.
The two referees of the night were: IBA referee and judge Nader Baraia, from France and, WCBO International Referee Volfango Rizzi, from Italy. The latter has been the main referee in the last WCBO World Championships.
Two were the commentators for the live audience in Paris and two others were the commentators for the streaming audience in English language, one of the two was Matt Thomas, from USA, who more and more is becoming the "voice" of great chessboxing events.
The organising team, lead by Guillaume Frenois and Marion Gianesini, has been very efficient and a great show was in place for the jubilant public.
We should expect to have two more ICF events in the first semester of 2023.
Some more articles and photos on this event:
A Parigi: Borrelli vince, Strugnell Campione del Mondo.
Scacchipugilato: Vito Borrelli vince a Parigi.
Il campione italiano Borrelli e l'arbitro Rizzi sul ring a Parigi.
More photos of the three azzurri in Paris: