We had the opportunity of interviewing the President of the Iranian ChessBoxing Federation, Mr Fereidoun Pouya.
Hello dear Fereidoun, could you introduce yourself and tell us about your passion for sports?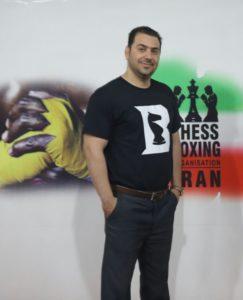 I started playing gymnastics at the age of 7. When I was 10, I became interested in kung fu and wushu and participated in kung fu and wushu competitions, becoming the national champion in both of them, at the same time. At the age of 18 I joined kickboxing and was able to become a champion in 2001. Since that time, I have started coaching and now I am a First-class coach in kung fu and kickboxing.
How did you discover chessboxing and how did you become involved in it?
At first I got information about this fantastic sport through various websites and it was interesting to me how it might be necessary to focus on chess while we are boxing and our blood pressure is very high.
Tell us something more about what you have done for the new sport of  chessboxing in Iran.
I officially entered the WCBO, signing an agreement with Iepe Rubingh, in 2010 as the President and Founder of Iranian Chess Boxing.
As you know, my country Iran, has faced to a lot of political problems and economic sanctions that caused lots of difficulties to carring out international activities. Nevertheless, we have had significant activities. For example, attending the 2017 World Chess Boxing Championships in India with four participants, we won 2 gold, 1 silver and 1 bronze medals in these competitions.
Admission of the sport of chessboxing within the Ministry of Sports of Iran was difficult and me managed it with the following numbers and activities:
working in the provinces of Hamedan, Golestan, Mazandaran, Tehran, Alborz, Fars, Khuzestan, Lorestan, East Azerbaijan and holding refereeing and coaching courses for seven times. In fact, the seventh course will be done online starting on 5th September 2020.
How many coaches and referees have you trained over the years?
I have trained 48 coaches and 38 official chess boxing referees so far; I hope that in our seventh training course we will increase the numbers of chessboxing referees and coaches up to 70.
Will the Iranian team participate in the next World Championships to be held in Moscow, Russia?
We hope that although we now have a corona virus pandemic, we will be able to prepare the Iranian national chessboxing team and participate in the competitions.
Tell us one or two advantages of practising chessboxing
I believe that chessboxing, in addition to strengthening the body, it can help young people learning about crisis management skills and problem solving. It is also very effective in controlling controlling your mind in difficult situation while making the right decisions.
We are at the end of our interview. Is there something else yu would like to add?
I wish peace for my dear friend and brother Mr. Iepe Rubingh, the founder of chessboxing sport, I really wish him to rest in peace. Also I wish success to my good friend Mr. Montu Das, who is now the President of the World Chess Boxing Federation.