At 5th WCBO Chessboxing World Championships, which took place in Riccione, Russia won all three trophies that the organisers created for the nations standings. The most important one, the (traditional) chessboxing standing. The second trophy was for the top medallist summing up both Light and Fit competitions (the two variations of chessboxing). The third trophy was for top entries and went to Russia as well.
Nations' Cup: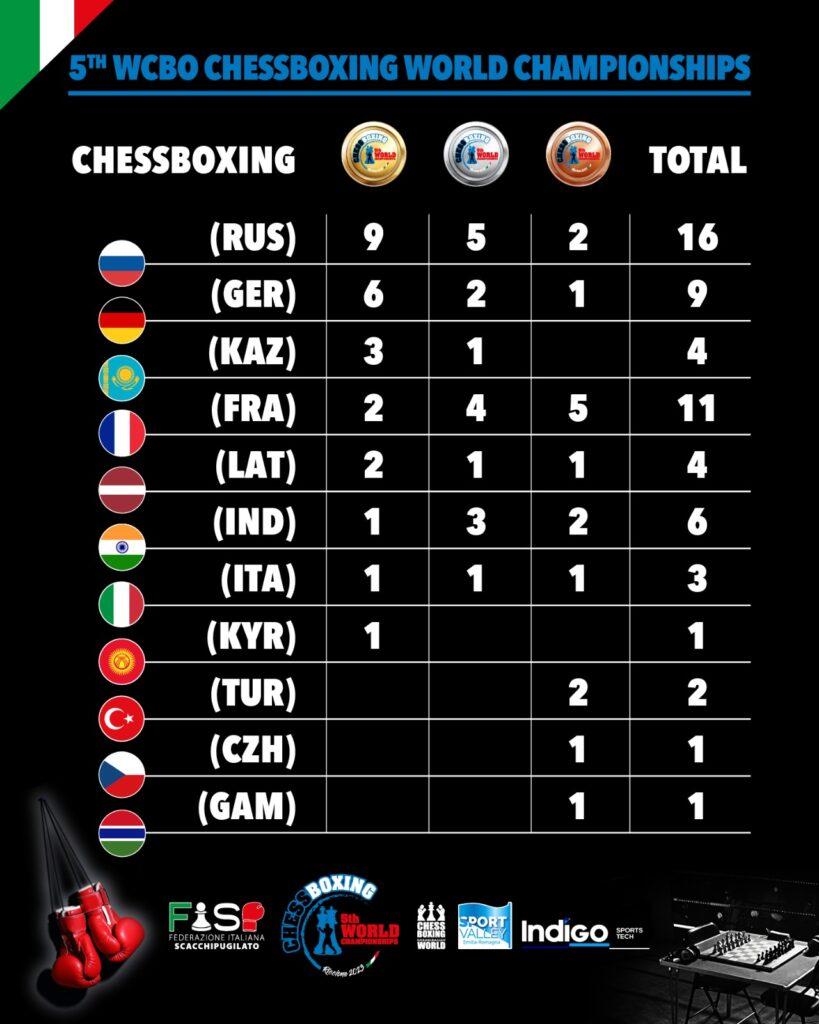 Russia and France confirm themselves as major powerhouses of international chessboxing. Among them surges Germany and Kazakhstan. India sent a smaller team than in other occasions but, over all, still managed to win six medals, this time round though, only one gold medal. Host nation Italy: for the first time wins more than one medal in traditional chessboxing, resulting in winning one tipe of all three metals. New entrants: Czechia, Kyrgyzstan and Gambia all win one medal each.
Medals' Table Light + Fit: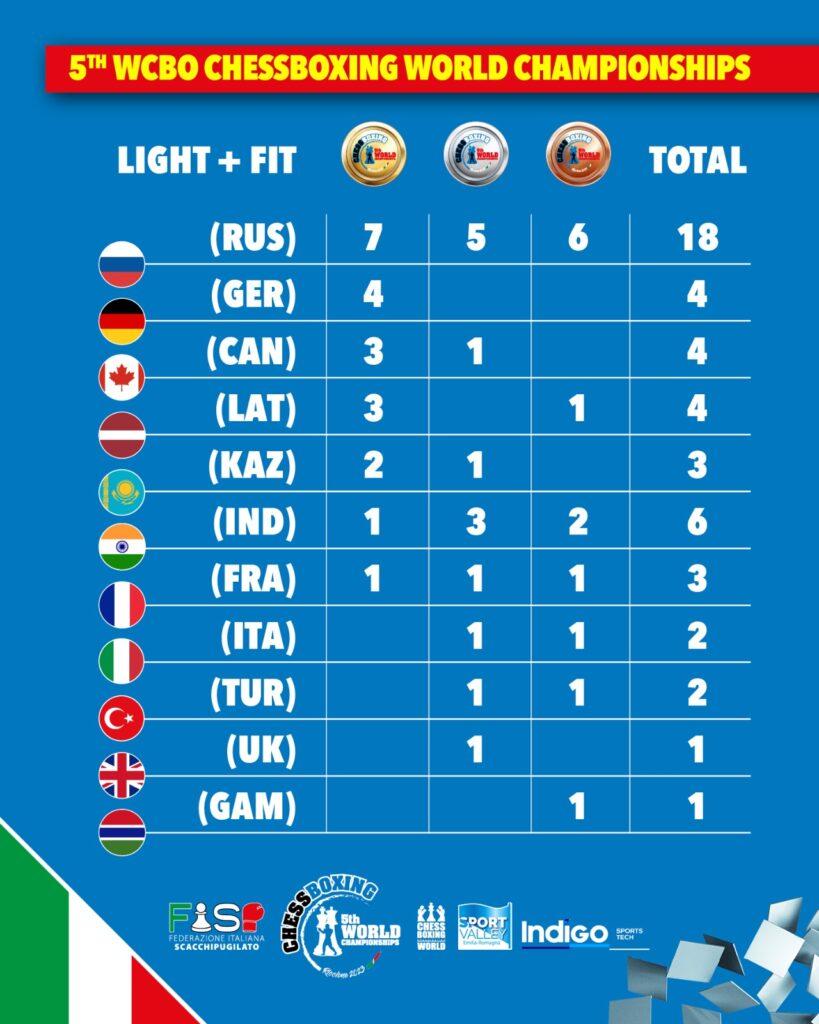 It is impressive that, in Light+Fit, new entrant Canada manages to take third place. Russia and Germany, as in traditional chessboxing, are first and second, and fourth place is still for Latvia as in the main standings. UK, as Canada itself, enters this table as it was not present in the main one.
Australia, USA, and Finland, fail to win a medal but their presence helps to register a record number of nations represented, a record number of athletes and trainers, and a first time with all continents represented.
Top Countries for Total Number of Entrants:
1 Russia 39 (26 male and 13 female);
2) India 22 (12 male and 10 female);
3) France 20 (18 male and 2 female);
4) Germany 19 (15 male and 4 female);
5) Turkey 11 (11 male);
6) Italy 10 (9 male and 1 female);
7) Latvia 9 (9 male);
8) Kazakstan 6 (4 male and 2 female);
9) Canada 4 (4 male)
The remaining nations one each.
See also: Chessboxing World Championships new heights: record number of nations and five continents represented.
List of World Champions in: 1) Chessboxing, 2) Chessboxing Light, 3) Chessboxing-fit:
Cathegory

Name

Nationality

Prize

var

Junior U50 MALE

ARMINIUS MARCUS ROLLE

(GER)

1st GOLD

regular

CADET U60 MALE

SEMEN DOBRUNOV

(RUS)

1st GOLD

regular

Youth U60 Male

ZHANDALUET ALDIYAR

(KAZ)

1st GOLD

regular

YOUTH U70 MALE

NEU MARTIN

(GER)

1st GOLD

regular

YOUTH U75 MALE

DOMINIK BODNAR

(GER)

1st GOLD

regular

Under 60 Senior MALE
ISKHAKOV

 

ILSUR

(RUS)

1st GOLD

regular

SAHA KINSHUR

(IND)

2nd SILVER

regular

PAUL SERGENT

(FRA)

3rd BRONZE

regular

MARRY CORR

(GAM)

3rd BRONZE

regular

Under 65 Senior MALE

NICOLO' TIRABOSCHI

(ITA)

1st GOLD

regular

TONY INFANTINO

(FRA)

2nd SILVER

regular

TESCHKE MAX

(GER)

3rd BRONZE

regular

MIROSHNIKOV ALEXEY

(RUS)

3rd BRONZE

regular

Under 70 Senior MALE

BESTUZHEV

ALEKSANDR

(RUS)

1st GOLD

regular

ALCER FABIAN

(GER)

2nd SILVER

regular

MARCO MUCCINI

(ITA)

3rd BRONZE

regular

TERRY KOCHANOWSKI

(FRA)

3rd BRONZE

regular

Under 75 Senior MALE

HASAN CELIK

(GER)

1st GOLD

regular

SLODAIN ARTEM

(RUS)

2nd SILVER

regular

EDGARS RAITS

(LAT)

3rd BRONZE

regular

KHANNANOV ARTUR

(RUS)

3rd BRONZE

regular

Under 80 Kg Senior MALE

J. JULIEN

(FRA)

1st GOLD

regular

SOLOVEV DANIL

(RUS)

2nd SILVER

regular

PIERRE GABRIEL

(FRA)

3rd BRONZE

regular

CINAR DOGUKAN

(TUR)

3rd BRONZE

regular

Under 80 VETERAN

BERDIKEYEV ARMAN

(KAZ)

1st GOLD

regular

Under 85 Senior MALE

VALENTIN MARCEL

(FRA)

1st GOLD

regular

SHVEDCHIKOV

SERGEI

(RUS)

2nd SILVER

regular

AYDOGDU

FURKAN SEDAT

(TUR)

3rd BRONZE

regular

Under 85 Veteran Male

BRIEDIS JURIS

(LAT)

1st GOLD

regular

DELABARRE OLIVIER GERARD

(FRA)

2nd SILVER

regular

Under 90 MALE

KENZHEBAEV Aknazar

(KYR)

1st GOLD

regular

GRIGOREV

MIKHAIL

(RUS)

2nd SILVER

regular

MATYÁŠ CHRT

(CZH)

3rd BRONZE

regular

LOGAN NOCHE

(FRA)

3rd BRONZE

regular

Under 95 MALE

REFIK LATIFI

(GER)

1st GOLD

regular

REMMO ALI

(GER)

2nd SILVER

regular

JHA ASUTOSH

KUMAR

(IND)

3rd BRONZE

regular

95+ MALE

LEBEDEV IGOR

(RUS)

1st GOLD

regular

SERGIO LEVEQUE

(ITA)

2nd SILVER

regular

95+ Veteran MALE

SHAYAKHMETOV SAYAN

(KAZ)

1st GOLD

regular

SERGEJS

RIBAKOVS

(LAT)

2nd SILVER

regular

Under 55 JUNIOR FEMALE

FOROVA EVA

(RUS)

1st GOLD

regular

TOKTYBAYEVA

DIANA

(KAZ)

2nd SILVER

regular

Under 55 FEMALE

KOMISSAROVA OKSANA

(RUS)

1st GOLD

regular

SANJAY WAYKAR

(IND)

2nd SILVER

regular

KENZA MEGZARI

(FRA)

3rd BRONZE

regular

Under 60 FEMALE

PETRUCHKOVA EKATERINA

(RUS)

1st GOLD

regular

LARA ARMAS

(FRA)

2nd SILVER

regular

Under 70 FEMALE

RATH ALINA

(GER)

1st GOLD

regular

AKHMADULINA

AMINA

(RUS)

2nd SILVER

regular

LAKRA KHUSHI

(IND)

3rd BRONZE

regular

Under 50 FEMALE

ALEXANDRA NOSKOVA

(RUS)

1st GOLD

regular

MADHAVI RAMCHANDRA GOMBARE

(IND)

2nd SILVER

regular

Under 65 FEMALE

KHATMULLINA DILARA

(RUS)

1st GOLD

regular

Under 45 FEMALE

THAKKADPALLY PRATHIBA

(IND)

1st GOLD

regular

VETERAN UNDER 75 MALE

BRIEDIS JURIS

(LAT)

1st GOLD

regular

DELABARRE OLIVIER GERARD

(FRA)

2nd SILVER

regular

UNDER 60 MALE LIGHT

HANS SEIDL

(GER)

1st GOLD

L+F

RICCARDO BERTIN

(ITA)

2nd SILVER

L+F

MARRY CORR

(GAM)

3rd BRONZE

L+F

Under 70 MALE LIGHT

ANDRÉAS HONNET

(FRA)

1st GOLD

L+F

BESTUZHEV

ALEKSANDR

(RUS)

2nd SILVER

L+F

PAUL DUCHER

(FRA)

3rd BRONZE

L+F

MIROSHNIKOV A.

(RUS)

3rd BRONZE

L+F

Under 80 MALE LIGHT

ELLIS STEINBERG

(CAN)

1st GOLD

L+F

KHALED BEN

(CAN)

2nd SILVER

L+F

ANGOM NONGSHA SINGH BASUMATARY

(IND)

3rd BRONZE

L+F

Under 80 VETERAN LIGHT

JURIS BRIEDIS

(LAT)

1st GOLD

L+F

OLIVIER

DELABARRE

(FRA)

2nd SILVER

L+F

Under 90 MALE LIGHT

BELAND GREG

(CAN)

1st GOLD

L+F

SHVEDCHIKOV

SERGEI

(RUS)

2nd SILVER

L+F

GRIGOREV MIKHAIL

(RUS)

3rd BRONZE

L+F

90+ MALE LIGHT

SHCHUKIN

ANATOLII

(RUS)

1st GOLD

L+F

SEHIRLI BERK

(TUR)

2nd SILVER

L+F

ASUTOSH KUMAR

JHA

(IND)

3rd BRONZE

L+F

Under 50 FEMALE LIGHT

NOSKOVA ALEKSANDRA

(RUS)

1st GOLD

L+F

GONBARE

MADHAVI

(IND)

2nd SILVER

L+F

UNDER 57 FEMALE LIGHT

WAYKAR SNEHA

SANJAY

(IND)

1st GOLD

L+F

UNDER 60 FEMALE LIGHT

PETRUCHKOVA

EKATERINA

(RUS)

1st GOLD

L+F

WAYKAR SNEHA

SANJAY

(IND)

2nd SILVER

L+F

KHATMULLINA

DILARA

(RUS)

3rd BRONZE

L+F

Junior U70 FEMALE LIGHT

EVA FOROVA

(RUS)

1st GOLD

L+F

U70 LIGHT FEMALE

ALINA RATH

(GER)

1st GOLD

L+F

Junior U50 MALE

ARMINIUS MARCUS ROLLE

(GER)

1st GOLD

L+F

CADET U60 MALE

SEMEN DOBRUNOV

(RUS)

1st GOLD

L+F

Youth U60 Male

ZHANDALUET ALDIYAR

(KAZ)

1st GOLD

L+F

VETERAN 90+ LIGHT

SERGEJS RIBAKOVS

(LAT)

1st GOLD

L+F

JUNIOR FAMALE

EVA FOROVA

(RUS)

1ST GOLD

L+F

DIANA TOKTYBAYEVA

(KAZ)

2ND SILVER

L+F

EMMA FRATTESI

(ITA)

3RD BRONZE

L+F

JUNIOR MALE

ZAHANDAULET ALDIYAR

(KAZ)

1ST GOLD

L+F

DENIM VADIM

(RUS)

2ND SILVER

L+F

SEMEN DOBRUNOV

(RUS)

3RD BRONZE

L+F

SENIOR FEMALE

ALINA RATH

(GER)

1ST GOLD

L+F

PETRUCHKOVA EKATERINA

(RUS)

2ND SILVER

L+F

KHATMULLINA DILARIA

(RUS)

3RD BRONZE

L+F

SENIOR MALE 75KG

KEROP KHARAIAN

(RUS)

1ST GOLD

L+F

ANGOM NONGSHA SINGH BASUMATARY

(IND)

2ND SILVER

L+F

AKSOY SERGAN

(TUR)

3RD BRONZE

L+F

SENIOR MALE +75KG

ELLIS STEINBERG

(CAN)

1ST GOLD

L+F

PANKRATOV MAKSIM

(RUS)

2ND SILVER

L+F

ANATOLII SHCHKIN

(RUS)

3RD BRONZE

L+F

VETERANS MALE

BRIEDIS JURIS

(LAT)

1ST GOLD

L+F

CARL STRUNGAL

(UK)

2ND SILVER

L+F

SERGEJS RIBAKOVS

(LAT)

3RD BRONZE

L+F